2030 Strategic Plan
The key to our future
Adif and Adif AV's 2030 Strategic Plan is the reference guide and the key to the future. It outlines the plans and tools that ADIF and ADIF AV will have to implement over the coming years to overcome both the external and internal challenges they will face.

The 2030 Strategic Plan is the key that paves the way for Adif and Adif Alta Velocidad to follow, in an uncertain world where the "end of the road" is still not defined.

All the General Departments of the two companies were involved in building the Plan so as to achieve a joint and collaborative vision. Through the 2030 Strategic Plan, we will all take on the 1+10+1 challenges together and prepare to face and anticipate new challenges that have yet to arise, such as the trends in technology that are already part of our reality, new consumption patterns and lifestyles, the concerns needed to mitigate the effects of climate change, compliance with regulatory frameworks and, ultimately, an increasingly demanding, stressed and volatile market situation.

The approach used to draw up the 2030 Strategic Plan featured the following steps:

The 2030 Strategic Plan is aligned with the government initiatives in place, with the overriding objective of being consistent and maximizing results by having a shared strategy.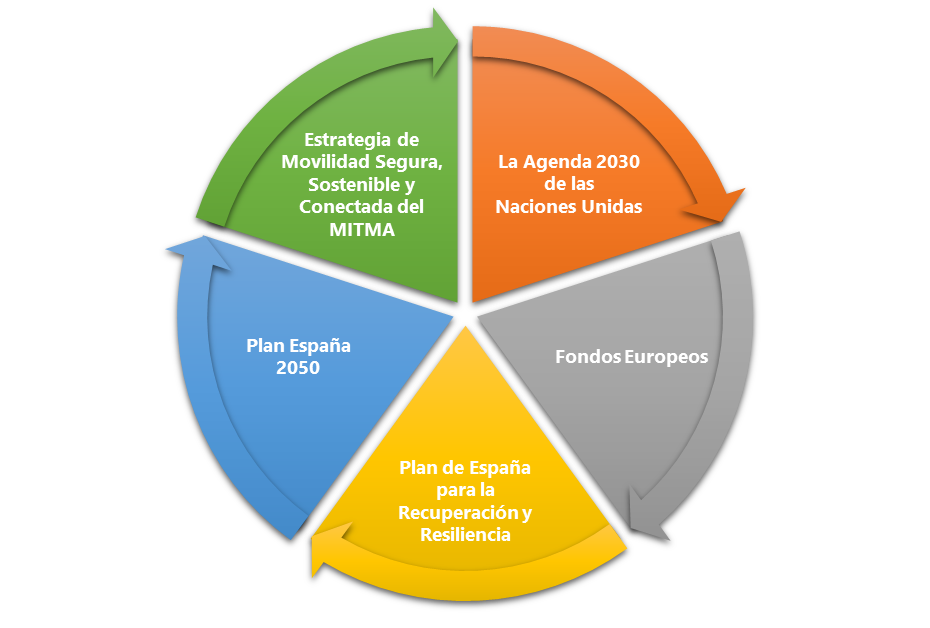 The PESTEL analysis (i.e., an analysis of the political, economic, social, technological, environmental and legal factors) unveiled the global strategic, operational and business challenges we will face over the coming decade, with 1+10+1 main challenges identified: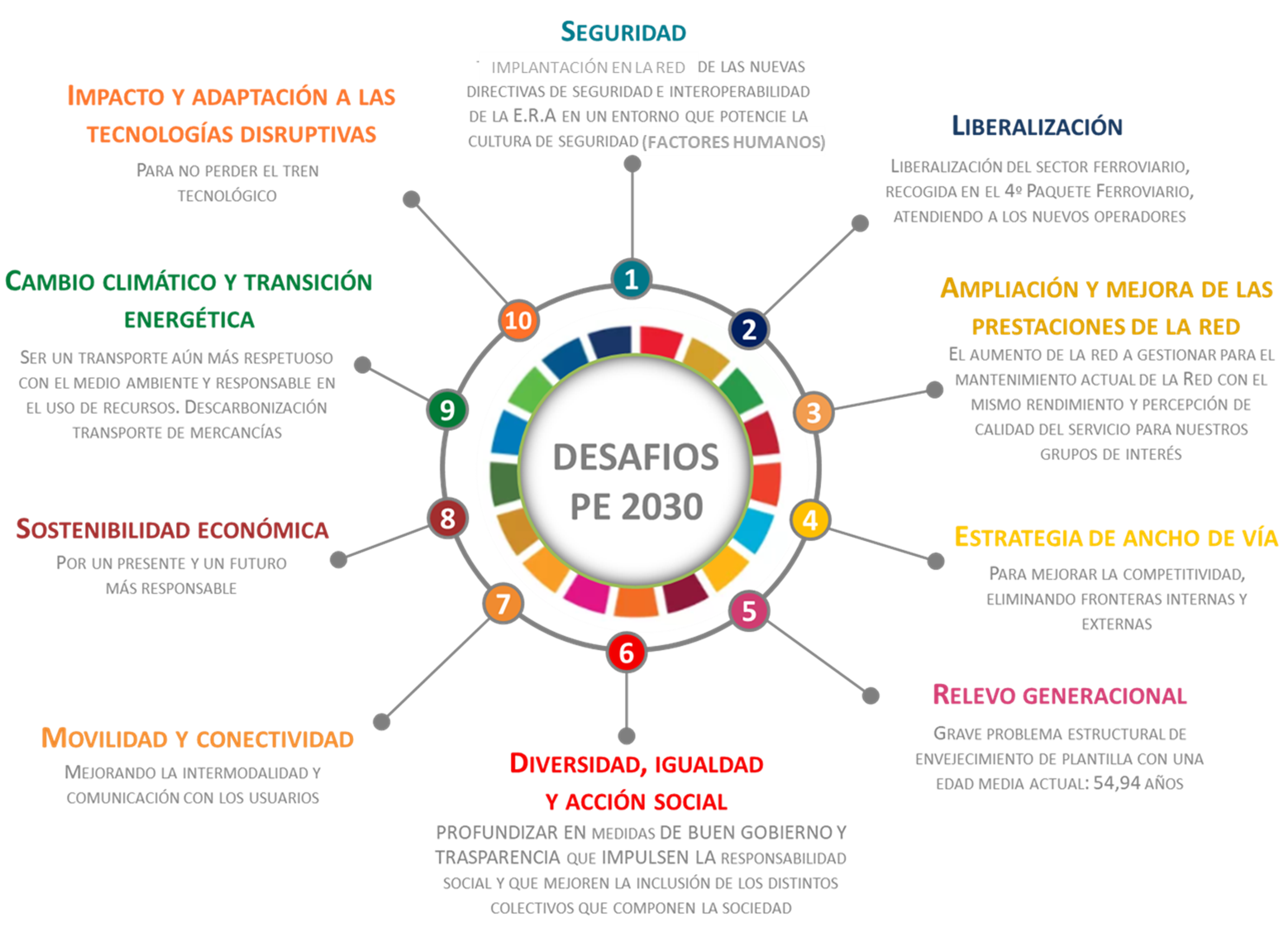 Additionally, in order to adapt rail transport to the new situation facing the industry with the arrival of the COVID-19 pandemic and any additional emergencies, two new challenges are incorporated. One challenge we are incorporating is the emergence of possible new pandemic scenarios and various emergencies such as the effects of climate change, which require risk management for people and the stakeholders of our infrastructures, as well as the adaptation of Adif and Adif AV to the arrival of recovery and resilience funds.

The key to ADIF's and ADIF AV's success has been and will always be their PEOPLE. People are the drivers behind the 2030 Strategic Plan. They push the levers, use the tools available and bolster the pillars underpinning ADIF and ADIF AV's business model and positioning.

The architecture of PE2030 therefore maintains the following scheme of people, pillars and levers under the guidelines of and aligned with the Spanish Government's Agenda 2030, the España Puede Plan, the European objectives for the Recovery and Resilience of Europe and the SDGs as guiding principles of the United Nations.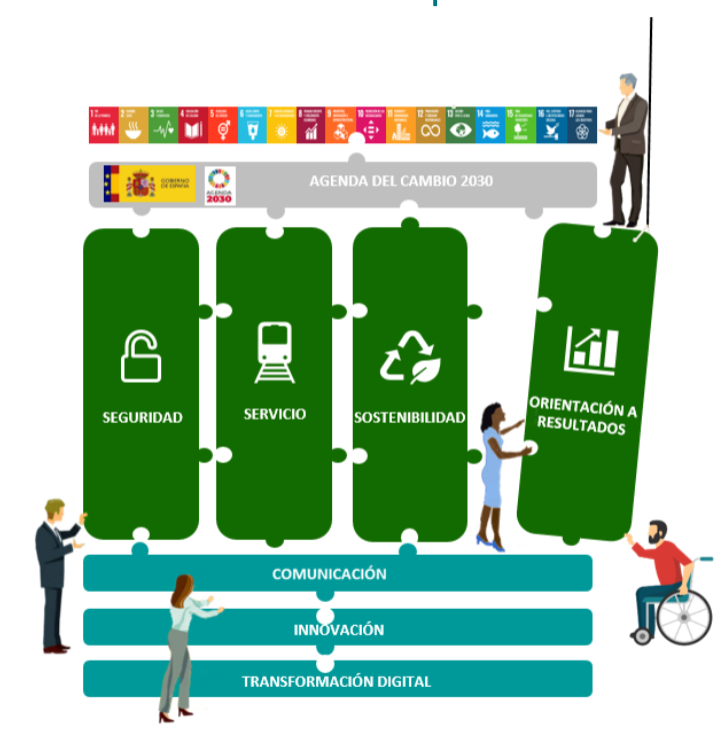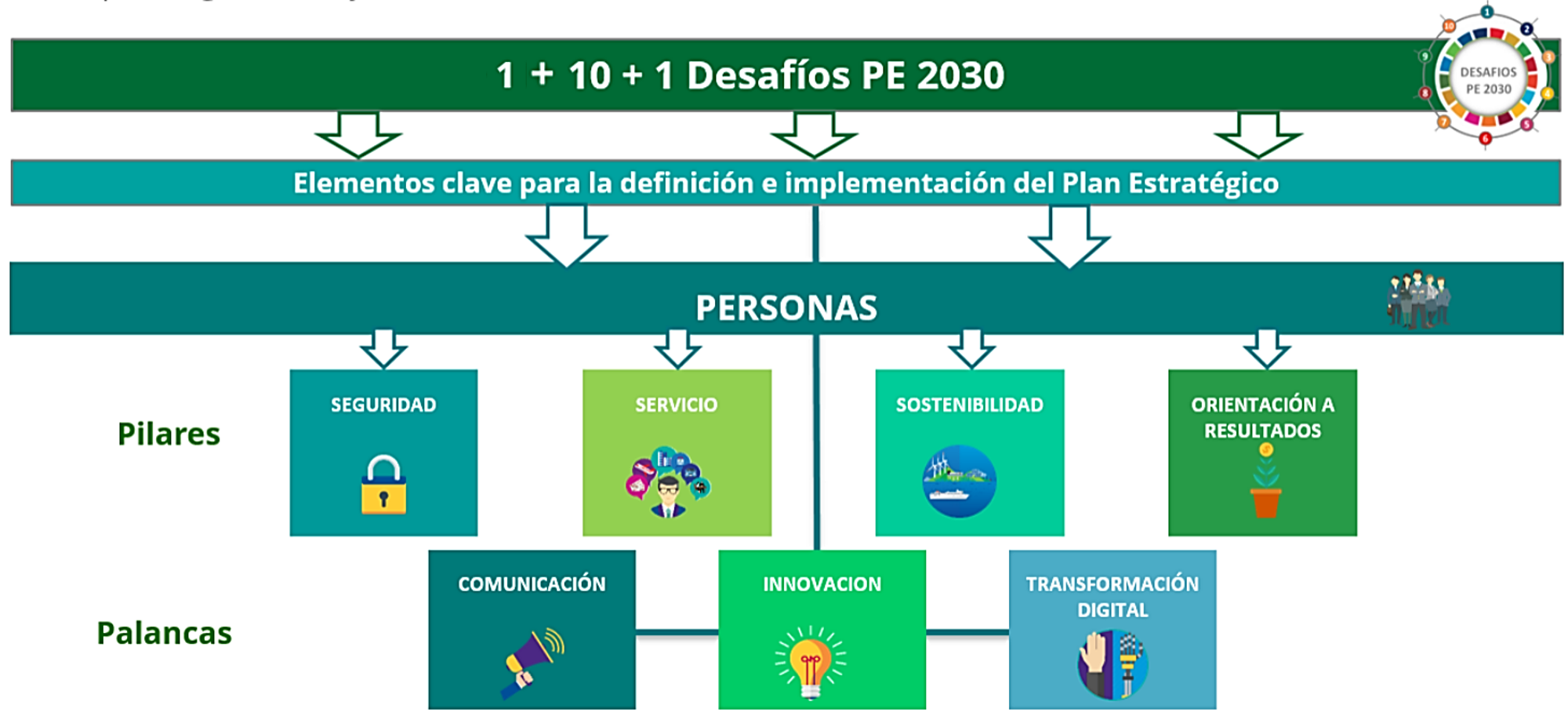 People make the design, development, rollout and cohesion of all components of the 2030 Strategic Plan possible.
People are the foundation of the organisation's main and crucial pillars: Safety, Service, Sustainability and Focus on Results.
People push the communication, innovation and digital transformation levers that make change possible.
People hold the key to our future
People are the driving force and the heart
The 2030 Strategic Plan is the key to our future