Photography and audiovisual works
at Adif facilities and premises
On this website you will find the information you need to take photographs or carry out audiovisual work in stations or other Adif facilities.
If the work you wish to carry out is of professional nature or if you wish to offer an audiovisual service to a company, please read carefully the indications below.
If, as a photography and railway enthusiast, you wish to take photos or record videos for your own use or, in any case, for non-profit purposes, please see the section Personal works of photography and railway enthusiasts on this website.
Application for authorisation to record or take photographs for exclusively informative purposes.
Information to be included in the application:
Full name and ID number of the persons who will carry out the work.
Planned date for the shooting or photo shoot
Object or purpose of the work
Telephone and contact person
NOTE: The authorisation shall be valid only for the period during which the professional work is to be carried out on the railway premises concerned.
It is essential to indicate the media company for which the permission is requested
.
Film or television shootings, commercials, documentaries...
Application for authorisation for citizens or companies to carry out professional or research work (film or television shootings, commercials, work on railway technology, etc.) that require recording or taking photographs at Adif facilities.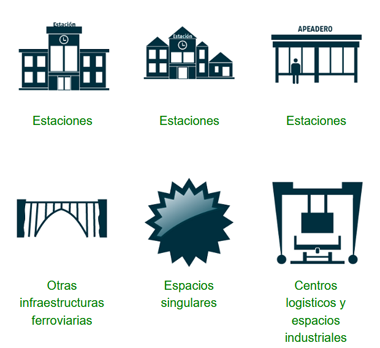 Catalogue of shooting locations
Adif has numerous railway facilities distributed throughout the Iberian Peninsula, from modern and innovative high-speed stations to historic sations with a special atmosphere reflecting the passage of time.
Adif makes available to all interested parties a catalogue of locations, where you can search by type or by geographic location for the location you need for each of your projects.
In addition to the locations listed in the catalogue, there are other railway or general locations, such as plots of land, warehouses, buildings, etc. that could be used in audiovisual projects.
Coordination and management with other rail-related companies
The Spanish Railway Foundation also owns locations of singular interest forshootings, events and audiovisual works, such as railway museums, the trains that are housed in them and the Fernán Núñez Palace.
Personal works by photography and railway enthusiasts
Individuals wishing to take photographs in privately owned public spaces at Adif's main railway stations do not need prior permission.
Even if the photographs are taken by amateurs, those photographic reports whose main subject matter is not railway-related will need a specific permission and may be considered professional works.
Furthermore, the following situations are not considered as"amateur photography", and therefore shall be treated as professional work requiring express authorisation:
Fashion blogs and catalogues, portfolios of models, actors and actresses.
Wedding, pre-wedding and communion photo shoots.
For-profit social media photo shoots.
Photographs for commercial purposes.
In the case of amateur photographs, however, the following limitations for photography are maintained: