Neobalast
Disaggregated ballast with improved durability and resistance to fragmentation and procedure for obtaining the same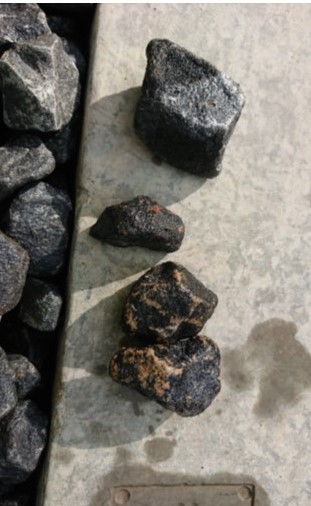 The fundamental objective of the project is twofold:
Provide greater performance to the ballast, both natural and recycled, adding particles from out-of-use tires, and its flight at High Speed.
Develop a treatment that allows to reuse recycled ballast or reject aggregates, providing them with new properties that comply with the regulations.
Advantages and Properties
This project is complementary to those that may be known, as it adds other types of advantages and properties:
The main advantage is to achieve the extension of the ballast's useful life.

It is also intended to improve the anti-vibration and anti-noise performance, so the use of elastomeric blankets or soles on sleeper bases, etc. could be considerably reduced.

It would also be beneficial to reduce costs in quarrying, transporting material and opening landfills.

Ballast recycling: Ballast that does not meet granulometry is reused; it is given a new use; before it could be reused only as aggregate for platforms or fillings.

New use of NFU in ballast layers. In other studies and projects it has been used in subballast layers or other surfaces.

There are other studies of precast artificial ballast that would only apply to some specific locations. The proposed solution would be fully compatible with the different precast ballast alternatives, increasing its performance and improving one of the weak points, such as surface resistance.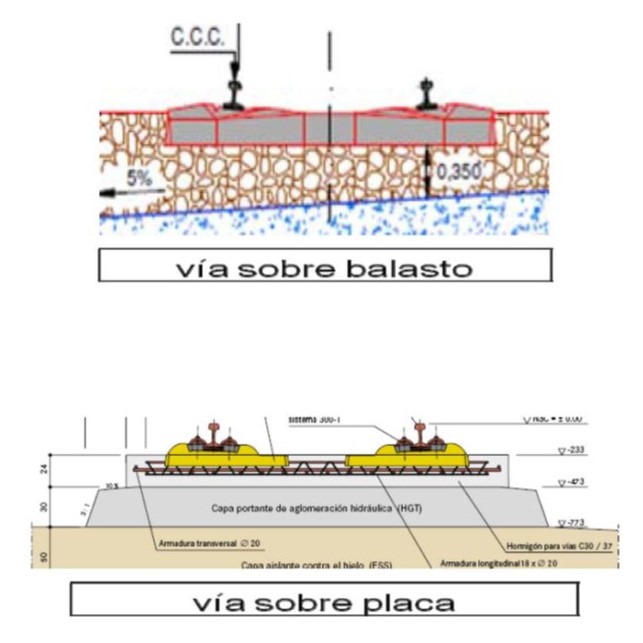 The proposed treatment is an alternative solution, which at the performance level would be located between the natural ballast track and the slab track, incorporating the qualities of the ballast and improving the performance in terms of durability, resistance, behaviour against vibrations and noise.
The coating is intended to improve these properties.
Economic and technological improvements
Putting the high-performance ballast into production on an industrial scale will bring the following advantages:
Increased service life compared to natural ballast.

The production price will be a relatively stable cost.

The implementation of production units at strategic points, or smaller production plants on site, is an economically important factor, due to the reduction in transport costs.
Environmental improvements
Prevents the opening of new rock quarries with significant environmental impact.
It is based on the reuse and recycling of other materials, which allows synergies with the efforts of the NFU valorization industry.
By being able to be manufactured in localised plants, the polluting effect of material transport can be reduced.

To ensure that these aggregates comply with the specifications for use as ballast, they will be treated with a coating of particles obtained from end-of-life tires, all joined with a binder.
Shared with: